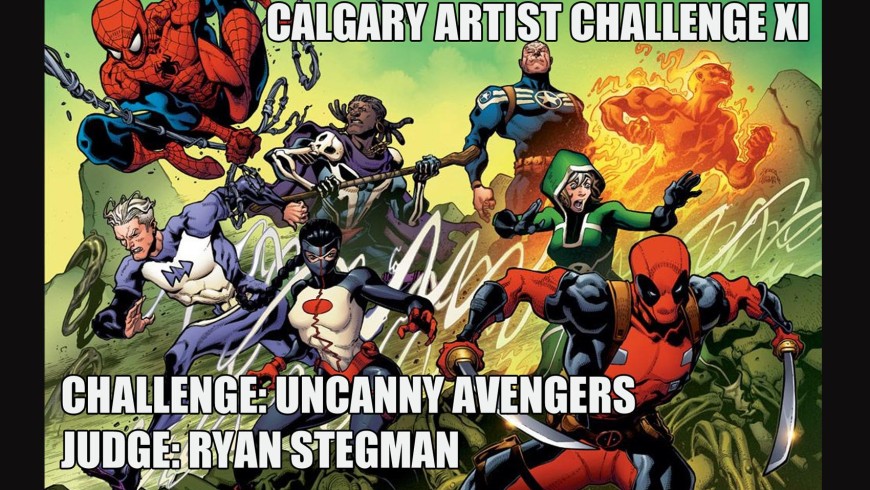 This is a public invite for all local artists to visit Alpha Comics on Wednesday, Oct 14th. This challenge is to create the best cover for Uncanny Avengers #1. You will be provided one free copy of the the Uncanny Avengers #1 blank variant. Then at Alpha Comics, use your art skills to create a cover to amaze everyone, including our guest judge. Bring your own supplies. There is no restriction with medium, only that the art has to be on the blank variant. Alpha Comics will be open 11am – 9pm that day and artists can visit anytime on that date to work on and submit their cover. Art must be done in the store. Each submitted cover will be scanned and uploaded to alphacomics.ca. On Thursday October15entries will viewed by our guest judge. Prizes will be awarded to the top three covers as decided by Uncanny Avengers artist, Ryan Stegman. (Guest judge will not be appearing in the store, they will be sent scans of the entries to view.)
Why should you participate?
This event will showcase local art, supporting the local artist community.
Your art will be exposed to thousands of people who are paying attention to Alpha Comics on the internet, including industry pros and comic fans across North America.
Prizes include blank variants that you'll be able to create art on and sell at conventions or online. First place winner will receive two packs of Blue Line art boards.
3rd prize – Three Uncanny Avengers #1 blank variants.
2nd prize – Five Uncanny Avengers #1 blank variants.
1st prize – Five Uncanny Avengers #1 blank variants and two packs of BLUE LINE PRO COMIC SMOOTH ART BOARDS 24 CT PACK
Limited copies of the Uncanny Avengers #1 blank variant will be ordered. Email
Alpha Comics to R.S.V.P. and secure a copy or if you have any questions.