Story: Charles Soule
Art: Ryan Browne
"THE DEVIL'S DEVIL," Part One – The new ongoing series from CHARLES SOULE (Daredevil, Death of Wolverine, Star Wars) and RYAN BROWNE (GOD HATES ASTRONAUTS) is COMING FOR YOU! A wizard has appeared in New York City, and he's casting wonderful spells, getting famous, getting rich-it's great! But it's not. This wizard has everyone fooled. He is actually an EVIL WIZARD, and EVIL THINGS are on the way. CURSE WORDS is a gonzo modern fantasy, full of darkness, light…and MAGIC.
"THE DEVIL'S DEVIL," Part Two Wizord, New York City's beloved sorcerous protector (at least that's what he wants you to think) has done something TERRIBLE to the city. It was sort of an accide—no. It was completely on purpose, and now he has to fix it before everything goes to hell. Meanwhile, evil wizards, including Wizord's ex Ruby Stitch, are lining up to take him down. It ain't gonna be pretty—but it's gonna be MAGIC.
Were you waiting for a comic like Doctor Strange but much more sarcastic?  Were you missing a talking koala name Margaret in your life?  Were you always wondering what happened when a wizard's relationships go bad?  Me, neither.  When I picked up this book – I wasn't sure what to think.  As a follower of Charles Soule (he's basically done some of everything), his stories have always struck a note with me – even if the book hasn't quite caught on (ahem Letter 44).
The first book (Part one) is an introduction to Wizord* and how he came to modern day Earth.  It touches on his relationships and his new business being a wizard-for-hire.  It's silly but all in the right places and his sidekick – Margaret the koala – is an interesting aside to the action going on.  I also enjoyed the completely random parts of this book (see: Talking Fish) that have no connection to the story or furthering the action.
The second book (Part two) starts to show the kinks in Wizord's armor.  He might be a bad guy.  Hard to tell really.  He might also be a guy trying to dodge his ex (who might also be a bad person).  Oh and don't forget the shadowy figure in the background trying to have Wizord killed.  And the twist at the end…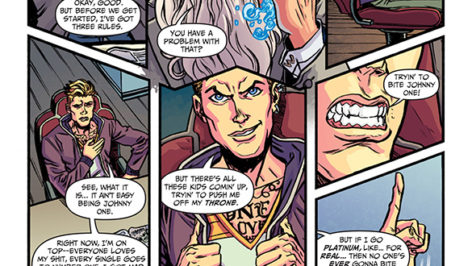 I'm not particularly familiar with Ryan Browne's art – those of you who read God Hates Astronauts might be in a better place than me in this manner – but I liked how frenetic the art and colors are.  They represent the action well and make for an interesting display even when there is nothing being exchanged on the page but magic blasts.
This is a definite read for anyone who is fans of the author's previous works or those who enjoy overly sarcastic/funny works like Deadpool or I Hate Fairyland.  Even though the first book came out a month ago – the second printing is just coming out (as well as part two which is out for tomorrows new comic book day).  It's the perfect time to jump into this story!
*Yes – that is spelled exactly the same as the book.  Don't believe me? Buy the book and look it up.