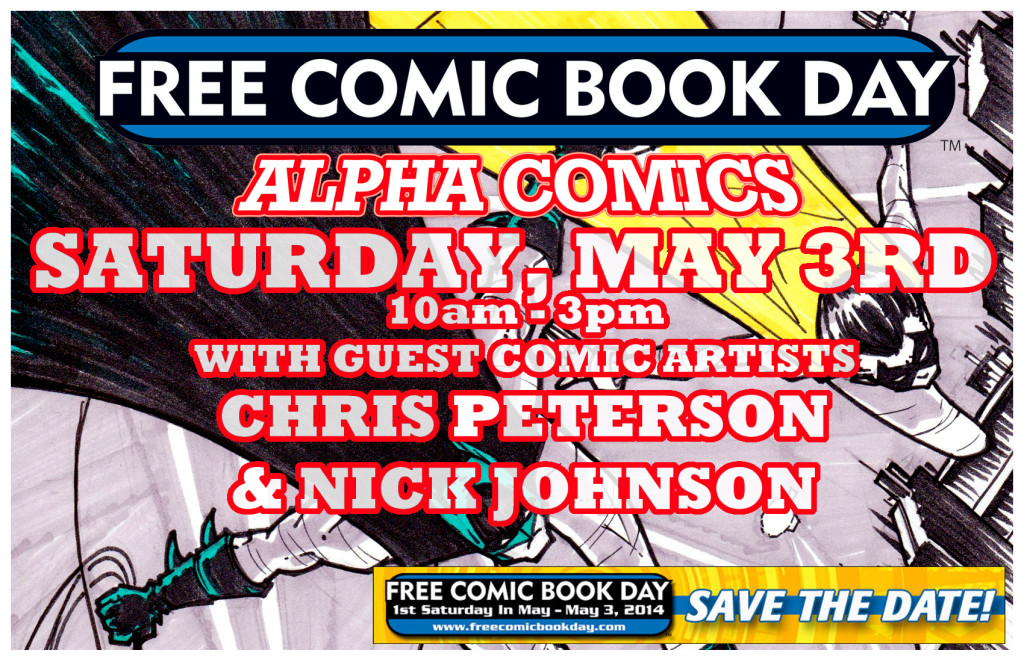 Save the date! Saturday, May 3rd Alpha Comics will be celebrating Free Comic Book Day!
Free Comic Book Day is a single day – the first Saturday in May each year – when participating comic book shops across North America and around the world give away comic books absolutely FREE to anyone who comes into their stores. Every comic shop has their own rules and selection may vary. This year FCBD is May 4th. At Alpha Comics you will be able to receive any four comics from the FCBD selection absolutely FREE, no purchase necessary. See below for all the comics that will be available for FCBD while supplies last. Alpha Comics will be open early on FCBD at 10am. Arrive early as stock is limited.
Guest artists Christopher Peterson and Nick Johnson will be here pumping out sketches.
First 30 People in Line for FCBD Get a FREE Grab Bag of MORE FREE Comics!
Free Comic Book Day is already "Christmas for comic fans" but lets make the day even better.
The first 30 people lined up will receive a ticket. At the counter turn in your ticket for a free grab bag.
What inside the grab bag? One graphic novel, six free comics, and a rare variant edition comic.*
*Grab bag intended for ages 16 and up. May contain inappropriate material for young readers.