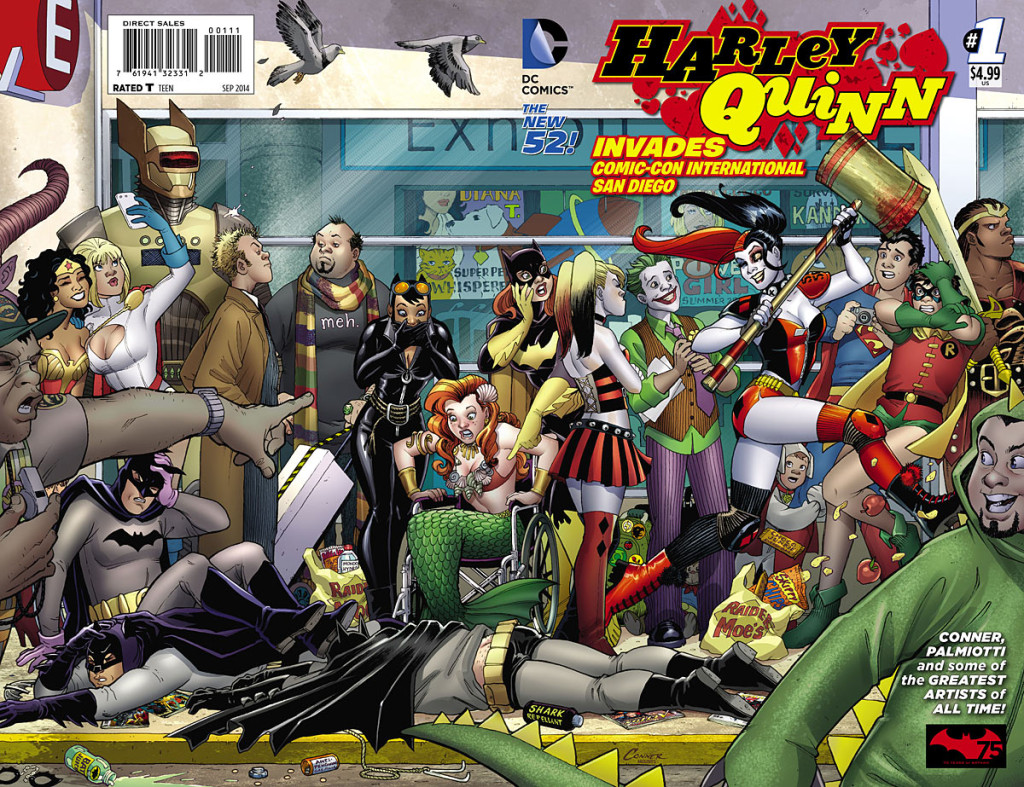 Harley Quinn Invades International San Diego #1 Review
By: Rob Neil Gruszecki
Harley Quinn is headed to San Diego Comic-Con in an effort to get her portfolio looked over by some of the industry editors and get her foot in the door of the comic's industry. Along the way she stumbles into industry legends and creators, finds a room full of Jokers, Pulls down Batman's pants, takes a crazy ride on a quickly deflating parade balloon, desimates cars, shoots a cop in the butt and many more acts of deranged anarchy and insanity.
Joining the regular creative team of Amanda Conner and Jimmy Palmiotti is slew of talented artists who help chronicle the entire week of Harley's life as she breaks the fourth wall and winks incessantly at the audience armed with puns galore. Some of the artists produce some great pages including the incredible pencils of Paul Pope (whose one page contribution was the highlight for me), Dave Johnson, Javier Garron and many more. Ultimately what has been assembled here is a light-hearted romp through nerd culture with a homicidal maniac as your guide.
Much like Marvel's Deadpool, Harley Quinn is a fan favorite character whose antics are best delivered along a heap of one-liners and inside jokes, both of which are in full force in this oneshot. I'd imagine any readers of the current Harley ongoing or even the current Brian Posehn, Gerry Duggan, Deadpool will be amused watching Harley beat up almost everyone she comes in contact with and yammering maniacally when she encounters pseudo-celebrities from cancelled TV shows and other apocryphal entertainment.
Harley Quinn Invades Comic-Con International San Diego #1 is a silly road trip littered with DC name drops and cute humour. Amanda Conner's beautiful wrap-around cover is a beast and her depictions of cosplayers are excellent tying together the collection beautifully. The jokes are relatively tame and seemed fairly one-note to me but ultimately I think the debauchery will be just enough for fans of the character.
Rob Neil Gruszecki is a writer, musician and Wednesday warrior
Follow him on Twitter @Ghost_Factory
Listen to his music www.Ghostfactory.bandcamp.com or the Weekly Comics Round-Up Podcast www.Geekstampede.com