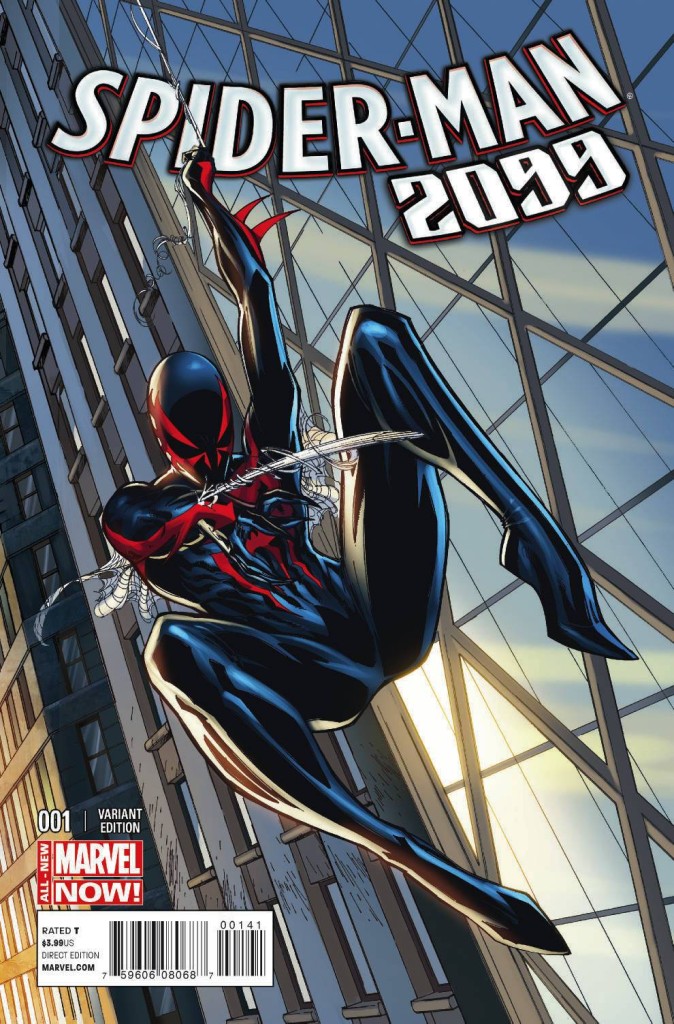 Spider-Man 2099 #1 Review
By: Rob Neil Gruszecki
Hailing from eighty plus years in the future but now stranded in our present, Miguel O'Hara, young genetics genius and scientist with amazing Spider abilities, is still adapting to his old/new surroundings. After a temporal distortion that threatened his very existence brought Miguel to our time and into the realm of the Superior Spider-Man, our friendly futuristic bit head has made the best of his situation and is in the process of setting up his new life. At his side, or rather on his wrist, his holographic assistant, Lyla, will help guide him through the streets of New York. However, being lost in time has never kept anyone safe in the Marvel Universe and almost immediately Spider-Man 2099 is met with an Adjustor from the Temporal Oversight Team Eliminating Mistakes or T.O.T.E.M from the year 2211.
Aw, Shock
Returning to the character he created 20 years ago, Peter David (The Incredible Hulk, X-Factor, Aquaman), brings Miguel O'Hara back to life as the Spider-Man of the year 2099 with the artistic help of Will Sliney (Fearless Defenders, Farscape) in a new ongoing series of for All-New Marvel Now. There is a very lived in sort of feeling behind the mask of this Spider-Man and obviously David's tenure on the initial volume of the book 2 decades ago is to thank for the comfortable and smooth way we are thrown into Miguel's new story. Obviously the character is well developed by this point but the benefit of having his creator return really shines here with immediate familiarity and a freshly polished, 'rekindling of an old love' feel. Quippy, funny, clever, fast-paced, exciting and appealing this new volume starts off running with a cool story taking advantage of Marvel's constant use of time travel.
Sleek character designs and some really flashy pages with the typical Spider-Man acrobats are beautifully drawn by Will Sliney. His perspectives during Spidey dust-ups and contortionist positions are executed with a real talent for anatomy and flexibility. Spidey diving through the air and stretching in ridiculous ways are a staple of the character and one that never gets old and Sliney really kills these opportunities for insane movement. The main villain in this first issue being the T.O.T.E.M agent is a standard humanoid machine but Sliney makes a very cool and menacing looking threat for Miguel to square off against that keeps the hero busy for a few pages at least with massive structural damage and a few grim casualties.
One of my favorite features of the book is the relationship between Miguel and his Holo-servant, Lyla. A staple of the original volume of the character and an important part of the 2099 continuity, she pops up from time to time in this first issue and her appearance is always an amusing one. A favorite sequence involves a miscommunication between Lyla and Miguel as he tries to change into his Spidey suit all the while dodging lasers from a mad robot sent from the future to eliminate him. Lyla and Spidey is a bizarro Batman and Alfred relationship and one that I would love to see even more of as the book continues.
At first the concept of a new Spider-Man 2099 ongoing wasn't one that caught my attention having no previous affinity for the character but after reading through this first issue I think David and Sliney have made me a fast fan. Loaded with fun, action and an interesting cliffhanger, Spider-Man 2099 is a strong first issue that really feels comfortable and confident with its delivery.
Rob Neil Gruszecki is a writer, musician and Wednesday warrior
Follow him on Twitter @Ghost_Factory
Listen to his music www.Ghostfactory.Bandcamp.com or the weekly Comics Round Up Podcast www.Geekstampede.Com